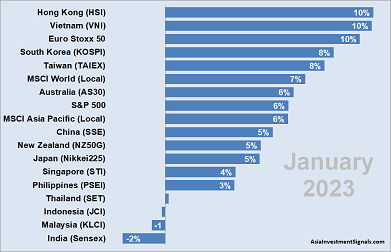 Many equity markets in the Asia-Pacific region started the year with great euphoria. A look at the stock market development in January can provide information about how the first trends could continue in the upcoming months.
January is said to have some predictive power for the rest of the year. It shows how prominent market participants position themselves at the beginning of the year and into which markets the money flows in and out. Studies for the US market show that if January ends with a positive return, the probability of ending the year with a profit is around 90 percent. Although this statistic applies to the US market, we see similar effects in other stock markets as well. On the other hand, markets that were among the biggest losers in the previous year often show also certain catch-up potential in the first few weeks of a new year.
Since September/October, we have experienced a recovery rally which has halted the downward trend in many markets worldwide. The MSCI World Index, down about 23 percent since its peak in September last year, has since recovered about 14 percent and has gained about 7 percent in January alone. The S&P 500 Index gained nearly 6 percent in January. The MSCI Asia-Pacific Index achieved about the same performance over the first month of this year.
With gains of 8 to 10 percent, Hong Kong, Vietnam, South Korea, and Taiwan were among the top gainers in our APAC ranking in January.
While Hong Kong lost 'only' 15 percent last year, Vietnam, South Korea, and Taiwan were among the big losers, with declines between 22 and 33 percent. The latter, therefore, were more likely to have some catch-up potential. Ten of the fourteen Asia-Pacific markets we track were up in January. Thailand and Indonesia remained unchanged. Malaysia and India started the year with slight losses of up to 2 percent.
Many analysts remain cautious for this year. The economic indicators speak a different language than the current positive stock market development would suggest. China seems to be one of the last nations to have overcome the coronavirus and could soon be the driving force for Asia and the rest of the world.
We generally expect positive returns for most Asia-Pacific markets by year-end. With geopolitical tensions and persistent inflation, investing will not be easy this year. Stock markets are likely to climb a wall of worries and remain volatile. The situation can probably only calm down at the end of the year, which, as so often, ends in a year-end rally. Well, let's see.